What is XLM Cryptocurrency?
First thing we answer is what is Stellar coin? Stellar Lumens was created by Jed Macaleb in 2014. He was also one of the co-founders of Ripple (XRP).
But what is Stellar Lumens? Stellar is the network and Lumens are the tokens that are used as cryptocurrency to trade across this network. A billion Lumens or XLM were created the instant Stellar network went live and they can now be traded at every major cryptocurrency exchange.
History of Stellar Lumens (XLM)
Stellar was created by forking Ripple because the founder wanted it to be a more decentralized payment network for altruistic reasons. Ripple became a for-profit company whereas Macaleb made Stellar a non-profit foundation although they raised some money.
It is important to understand the history of a project before investing. You can see the similarities between Stellar and Ripple since they both work with banks and help remit payments or transfer value across the globe on a secure blockchain network.
How does Stellar work?
Stellar allows for creation of a token that can represent any asset. It could transfer a US Dollar, Euro, Pound, Bitcoin or any other asset that will be represented 1:1 as a digital token.
In a sense, Stellar network created the concept of Stablecoins even before Tether (USDT) existed.
Lumens is a global currency that was designed to solve banking and exchange problems in global trade. Lumens are also the protocol on which the Stellar network operates.
How remittances work on Stellar XLM?
Stellar connects banks and payment systems with people. Let us take an example of how it works.
If Joe sends $100 from the United States to his friend Jose in Mexico through his remittance company, Stellar network asks the receiver's bank for compliance. Once Jose's bank account is determined, the remittance company deducts the funds from Joe's account. The remittance company and bank are anchors on Stellar network. The funds are now in a pool and the network finds the best exchange rate.
Once locked, the funds are sent to Jose's bank's account in Mexican Pesos. These Pesos are then transferred to Jose's account.
This entire transaction happens in under 5 seconds, takes less than 0.001 of a cent and can be made from US Dollar to 180 currencies.
This transaction can be done in one of three ways:
As a direct Fiat currency exchange platform
Using Lumens (XLM) as a bridge between two currencies
Or using a Chain of conversions in case there are no orders between two currencies
The network selects the most efficient method within seconds.
Stellar's architecture
Cryptocurrencies like Bitcoin and Ethereum require mining to validate transactions. Nodes store a copy of the ledger. Stellar Lumens are pre-mined and every system that carries out a transactions automatically becomes a "node". This is a different way of decentralizing the network.
Where to buy Stellar lumens (XLM)?
Now that you know more about Stellar Lumens (XLM), one wonders where can I buy XLM? Stellar is one of the most popular cryptocurrencies and is available on all major exchanges in various Fiat and crypto pairs.
Here are some exchanges where you can buy Stellar coins from:
Exchange Name
Transaction Fees
Payment Method(s)
Pros
Cons
Binance
0.1%
Bank transfers, Debit cards, Wire transfers, Cryptocurrencies

Trusted
SAFU Fund
Low fees
No KYC for small accounts

Not all cryptocurrencies available in the US
Lax regulation

Etoro
No fees for unleveraged trading but a spread of 2.45% for XLM
Credit card, Debit card, Paypal, Wire Transfer, Local Online Banking

Simple interface
Social trading

Higher spreads
No crypto deposits

Cex.io
0.16% - 0.25%
Bank transfer (ACH / SEPA), Credit card, Faster payments service, Cryptocurrencies

Competitive fees
Peer trading as well as broker trading

High fees for cards
Fewer crypto trading pairs

Coinbase
1.49% or a fixed fee
Credit card, Debit card, Paypal, Cryptocurrencies

Easy for beginners
Trusted
Good customer service

Higher fees
Fewer crypto options for trading
Only available in select countries

Gate.io
0.2%
Cryptocurrencies

Large volume
Range of currencies

No Fiat deposits
Relatively new exchange

Paxful
0% for maker / 1% for taker
Credit card, Cash, Paypal, Western Union, Cryptocurrencies

Easy to use
Range of deposit options
Buyers trade without fees

Exchange rates are different for sellers
Seller-driven market
How to buy Stellar Lumens (XLM) - a step-by-step process
Let us look at how to buy Stellar coin on these exchanges. This is a how-to guide that takes you through this journey step by step.
Buying Stellar Lumens on Binance
Binance is one of the most popular cryptocurrency exchanges and has one of the largest volumes of Stellar Lumens (XLM). One disadvantage of using Binance is that you won't be able to deposit Fiat money like U.S Dollars of Euros.
If you already own Bitcoin (BTC) or Ether (ETH), you can also trade them for XLM on Binance. If not, before you can begin trading on binance you will need to buy cryptocurrency from another exchange or a broker. For example, you can easily buy some Bitcoins or Ether from Coinbase. Transfer the BTC/ETH to Binance by clicking on account and entering your Binance deposit address.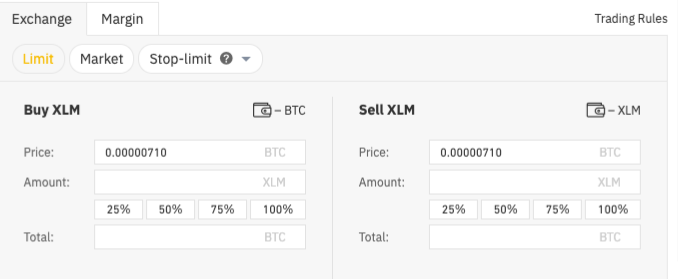 Here are instructions on how to buy XLM on Binance:
Visit Binance.com and Register
Verify your account by submitting the documents they need
Enable 2-Factor Authentication to protect your account
Send your BTC or ETH to Binance deposit address
Alternatively, you could buy BTC via one of Binance's Fiat Gateways. These gateways work in some countries only. So check if they work in your country first
Wait for the confirmation of deposit
Go to the exchange screen by clicking "Exchange > Basic" on the top left menu
On the right hand side, select the pair BTC/XLM or ETH/XLM
You will see a graph in the middle and a buy box below that
Click on the 'Market' option
Enter the BTC / ETH amount that you want to buy for
Click the buy button and you are done!
Here is a full review of Binance | Buy XLM coin on Binance
Buying Stellar Lumens on Etoro
One of the easiest ways to buy Stellar Lumens would be through eToro's Stellar trading platform. With Etoro, you can trade XLM using fiat currency like USD, Euro etc.
Step one is to Sign up for  an account at eToro. Click the Sign up button on the top right
Confirm your email address
To deposit money in eToro, you need to pick a payment method first. You can choose Paypal, Skrill, pay via Credit / debit card or even Wire Transfer the money into eToro from your bank account
eToro requires depositing a minimum of £200 into the account. This money can be used for buying different tokens if you want to buy less of XLM
On the top menu, click on "Top Markets" and select Cryptocurrencies
You will see a search box for trading pairs. Type XLM/Euro or XLM/Pound depending on what you have in your account
Click on "Trade" and you will see the screen to buy Stellar with the current price and a graph on it.
Here is a full review of eToro | Buy XLM on eToro
Buying Stellar Lumens on CEX.io
The quickest way to purchase XLM would be using a credit card on CEX.io. This is a London-based cryptocurrency exchange that has been there since 2013. It is an easy and quick way to get Stellar Lumens (XLM).
A major advantage is that as compared to other exchanges, you can deposit using a debit / credit card, bank account wire transfer or SEPA on CEX.io.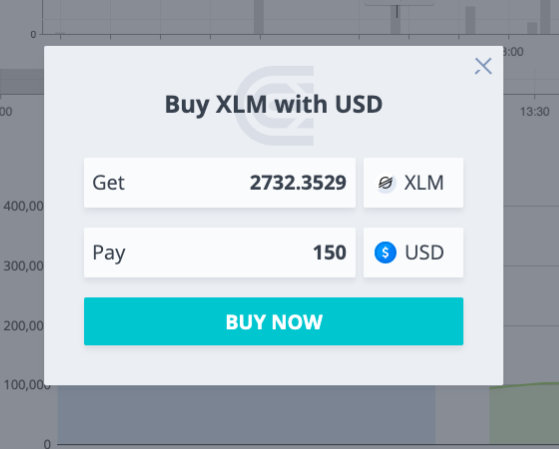 Here is how you can buy on CEX.io:
Register on CEX.io
Confirm your email address and fill in the personal information
Submit the required documents for verification
Deposit your Fiat via Credit card or any other mode available
Once the balance is reflected, on the left panel, type in XLM
Select the Fiat currency you deposited - like USD, Euro or GBP
Click on the Fiat currency name. This will open the trading page with the graph
Below the graph, there is a "Buy" box. Select "Market" option to buy at current market rates
Enter the amount you want to buy and you are done. You just bought yourself some XLM
Here is a comprehensive review of CEX.io | Buy XLM on CEX.io
Buying Stellar Lumens on Coinbase
Coinbase is a brokerage and trading platform that allows us to get Stellar Lumens (XLM). Although the brokerage route is quicker and designed for new users, it does charge more fees. Therefore, it is recommended that advanced users rely on the trading feature to buy Stellar to save fees on their trade. Coinbase is fairly popular and widespread as it allows depositing money through wire transfers, debit cards or domestic transfers.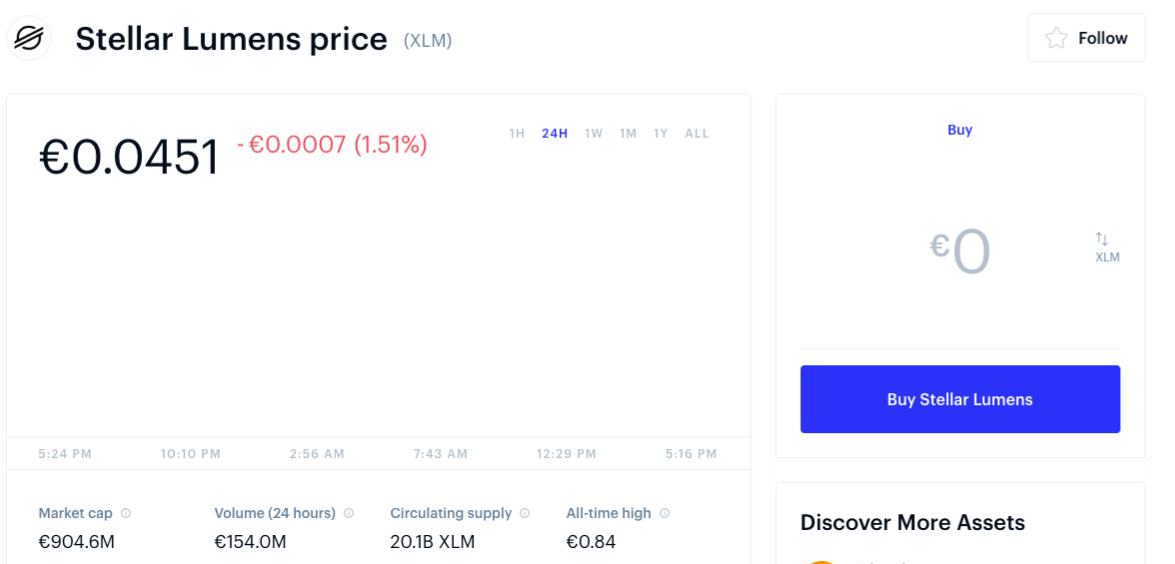 Steps to buy on Coinbase:
Sign up for an account
Verify your email and identity
Set up 2-Factor Authentication to secure your account
Deposit money in your Coinbase account. Using a credit or debit card is faster but attracts more fees than a Bank Transfer
Click on "Buy/Sell" from the top menu
Select XLM from the search. Check the price.
Enter the amount you want to buy and click on "Buy Stellar Lumens"
Here is a full review of Coinbase | Buy XLM on Coinbase
Buying Stellar Lumens on Gate.io
Gate.io is an exchange with large volumes and has lower transaction fees compared to many exchanges.

Steps to buy on Gate.io:
Create an account
Verify email
Set up 2-Factor authentication for security
Deposit BTC / ETH / USDt on Gate.io. Gate.io does not support Fiat deposits
Click on the Markets in the top menu
On the left panel, select XLM with BTC/ETH/USDt
Below the graph, enter the amount you wish to buy and there you have it in your wallet
Here is a full review of Gate.io | Buy XLM on Gate.io
Buying Stellar Lumens on Paxful
Paxful is an easy-to-use peer-to-peer trading platform with a lot of payment options. However, their customer support can definitely be improved.

Steps to buy on Paxful:
Sign up for an account
Complete all verifications
Enable 2-Factor authentication for security
You can deposit via credit / debit cards, cash, MoneyGram, Bank transfers, Paypal or Western Union
Once you deposit the amount, you can buy directly with the amount deposited
This is the most easy-to-use interface with a direct exchange enabling you to buy instantly
Here is a full review of Paxful | Buy XLM on Paxful
How to store Stellar lumens securely?
Once you've bought the crypto tokens, it is important to store them securely. Storing them on the exchange wallet for a short time is okay. But it may not be the wisest decision. So let us look at how you can store your Stellar Lumens securely.
You will want to store them in a secure wallet. Although there are numerous wallets that support Stellar Lumens (XLM), there are only a few that are both reputable and secure.
Ledger Nano X - Hardware wallet
Ledger is one such wallet that offers you two hardware wallets built to hold your Lumens - Ledger Nano S and Ledger Nano X. They act as an XLM wallet and can also store other currencies like Bitcoin or Ether.
This pocket-sized hardware wallet is practically impossible to hack and user friendly, making it the best place to store your Stellar Lumens.
Steps to store XLM on Ledger:
Once you purchase Ledger, plug it into your machine with the cable provided
Choose your model of Ledger
Install Ledger Manager Chrome Extension
Upgrade your firmware, if there is an option
In the app, you will see a list of cryptocurrencies. Select Stellar Lumens
The app will ask if you want to allow this installation. Click on the button on the hardware wallet to allow installation
Scroll by pressing the button on top right and choose Stellar on your Ledger screen
Once the app is installed, continue to http://stellar.org/account-viewer/
Now open the Stellar app on your Ledger Nano by clicking the top two buttons at the same time
Go to Settings > Browser Support > Yes
On your computer screen, there will be a blue button which says "Sign in with Ledger". Click on that
Once done, you will see your public key and your Lumens balance on the screen
Send your Lumens from your exchange to this public address. Wait for the Stellar network to register the transaction
You are done!
Always test a small amount before you send a large amount.
Trezor - Hardware wallet
Trezor hardware wallet is the perfect alternative to your Ledger Nano wallet.
Steps to store XLM on Trezor:
Once you purchase Trezor, plug it into your machine with the cable provided
Continue to create a PIN
Allow Trezor wallet to read your private keys
Export Stellar address for your account
Create and enter your passphrase. You need to remember this or you lose your tokens
Now the screen will show your public Stellar address and 0 Lumens, which is your balance
Send your Lumens from your exchange to this public address.
You are done!
Stellar Foxlet wallet
If you are not too enthusiastic about getting a physical wallet, you can always get a desktop based wallet like the Stellar Foxlet wallet that will store your Lumens for you. It is available for Windows, Mac and Linux. It connects directly to the Stellar network.
Steps to store XLM on Stellar Foxlet wallet:
Install the wallet from https://wallet.stellar.chat/
Get your XLM address
Send your tokens to this address and you are good to go
Frequently asked questions about buying Stellar Lumens cryptocurrency
How to buy Stellar Lumens with credit card?
You can buy Stellar Lumens with a credit card on eToro, Coinbase or Paxful.
How to buy Stellar Lumens with USD?
Buying Stellar Lumens with USD is fairly simple. You can use a number of exchanges like eTORO, Cex.io or Coinbase.
How to buy Stellar Lumens in Canada?
You can use exchanges like Bitbuy, Kraken, coinsquare and NDAX to trade stellar lumens in canada.
How to buy Stellar cryptocurrency with Paypal?
You can use Coinbase or Paxful to buy with Paypal.