What is Litecoin (LTC)?
Litecoin was one of the first altcoins created. The Litecoin network went live in October 2011. It was a fork of Bitcoin's code with some important modifications.
The creator of Litecoin, Charlie Lee, was a Google employee and was formerly the Director of Engineering at Coinbase. Charlie Lee is one of the most influential personalities in the crypto universe.
Litecoin has consistently been one of the top 10 cryptocurrencies by market capitalization.
Litecoin adopted SegWit, or Segregated Witness, in May of 2017.
Litecoin Vs. Bitcoin
Litecoin was designed to be faster and more efficient than Bitcoin.
The core changes in the code included a decreased block time of 2.5 minutes instead of Bitcoin's 10 minutes. This meant the Litecoin network could confirm transactions faster than Bitcoin's network.
Another key difference is that Litecoin uses a scrypt hashing algorithm instead of SHA-256 that is used by Bitcoin. This makes Litecoin's miners more complicated and expensive than Bitcoin's.
Bitcoin's total supply is capped at 21 million whereas Litecoin's maximum supply is 84 million. This makes it less scarce, but more suitable for daily transactions.
Litecoin's GUI is slightly different compared to Bitcoin's.
Where can you buy Litecoin?
Given this background, let us look at how you can buy Litecoin. Litecoin is a high availability - high liquidity coin. It is available on almost every exchange that Bitcoin is traded on.
Litecoin is available on hundreds of cryptocurrency exchanges with over 400 trading pairs.
Here is a list some of the cryptocurrency exchanges you can buy Litecoin from:
Exchange Name
Transaction Fees
Payment Methods
Pros
Cons
Binance
0.1%
Bank transfers, Cryptocurrencies, Debit cards, Bank transfer

High Trust
SAFU contingency Fund
Low fees
No KYC for small accounts

Not all cryptocurrencies available in the US
Lax regulation

Etoro
No fees for unleveraged trading but a spread of 2.45% for LTC
Credit card, Debit card, Paypal, Bank Transfer, Local Online Banking

Simple interface
Social trading

Higher spreads
No crypto deposits

Cex.io
0.16% - 0.25%
Bank transfer (ACH / SEPA), Credit card, Faster payments service, Cryptocurrencies

Competitive fees
Peer trading as well as broker trading

High fees for cards
Fewer crypto trading pairs

Coinbase
1.49% or a fixed fee
Credit card, Debit card, Paypal, Cryptocurrencies

Easy for beginners
Trusted
Good customer service

Higher fees
Fewer crypto options for trading
Only available in select countries

Gate.io
0.2%
Cryptocurrencies

High volume
Range of currencies

No Fiat deposits
Relatively new exchange

Paxful
0% for maker / 1% for taker
Credit card, Cash, Paypal, Western Union, Cryptocurrencies

Easy to use
Range of deposit options
Buyers trade without fees

Exchange rates are different for sellers
Seller-driven market
If you are looking for exchanges to buy Litecoin from, we also recommend this great list from Invezz with reviews of each platform.
How to buy Litecoin - Step By Step
This is a how-to guide that takes you through the journey of buying Litecoin step by step:
Buying Litecoin on Binance
Binance is the most trusted cryptocurrency exchange in the industry and the best place to buy Litecoin. However, you cannot deposit Fiat currencies like US Dollars or Euros on Binance, though you can use various other crypto-to-crypto payment methods.
If you already own cryptocurrencies like Bitcoin or Ether, or stablecoins like Tether, you can start buying Litecoins on Binance with those.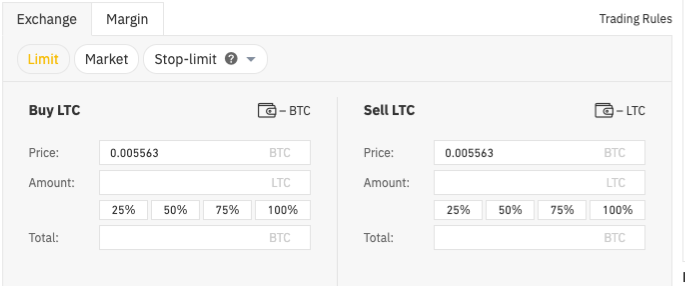 Steps to buying Litecoins on Binance:
Visit Binance.com and Register
Verify your account by submitting the documents they need
Enable 2-Factor Authentication to protect your account
Send your BTC or ETH to Binance deposit address
Alternatively, you could buy BTC via one of Binance's Fiat Gateways. These gateways work in some countries only. So check if they work in your country first
Wait for the confirmation of deposit
Go to the exchange screen by clicking "Exchange > Basic" on the top left menu
On the right, select the pair BTC/LTC or ETH/LTC
You will see a graph in the middle and a buy box below that
Click on the 'Market' option
Enter the BTC / ETH amount that you want to buy for
Click the buy button and you are done!
Buying Litecoin on Etoro
One of the easiest ways to buy Litecoin would be through eToro's Litecoin trading platform. With Etoro, you can trade LTC using fiat currency using various payment methods:
Step one is to Sign up for  an account at eToro. Click the Sign up button on the top right
Confirm your email address
To deposit money in eToro, you need to pick a payment method first. You can choose Paypal, Skrill, pay via Credit / debit card or even Wire Transfer the money into eToro from your bank account
eToro requires depositing a minimum of £200 into the account. This money can be used for buying different tokens if you want to buy less of LTC
On the top menu, click on "Top Markets" and select Cryptocurrencies
You will see a search box for trading pairs. Type LTC/Euro or LTC/Pound depending on what you have in your account
Click on "Trade" and you will see the screen to buy Litecoin with the current price and a graph on it.
Buying Litecoin on CEX.io
CEX enables the quickest purchase of Litecoin using a credit card.
CEX.io lets you deposit using a debit / credit card, bank account, wire transfer or SEPA. All these payment methods make it easy to use CEX.io.
Here is how you can buy on CEX.io:
Register on CEX.io
Confirm your email address and fill in the personal information
Submit the required documents for verification
Deposit your Fiat via Credit card or any other mode available
Once the balance is reflected, on the left panel, type in LTC
Select the Fiat currency you deposited - like USD, Euro or GBP as a payment method
Click on the Fiat currency name. This will open the trading page with the graph
Below the graph, there is a "Buy" box. Select "Market" option to buy at current market rates
Enter the amount you want to buy and you are done. You just bought yourself some LTC
Buying Litecoin on Coinbase
Coinbase is a brokerage and trading platform that allows users to buy Litecoin seamlessly with fiat. Although buying on Coinbase via the brokerage route is quicker and designed for new users, it does charge more fees. Therefore, it is recommended that advanced users rely on the trading feature to buy Litecoin to save fees on their trade. Coinbase is fairly popular and widespread as it allows depositing money through bank transfer, debit cards or domestic transfers.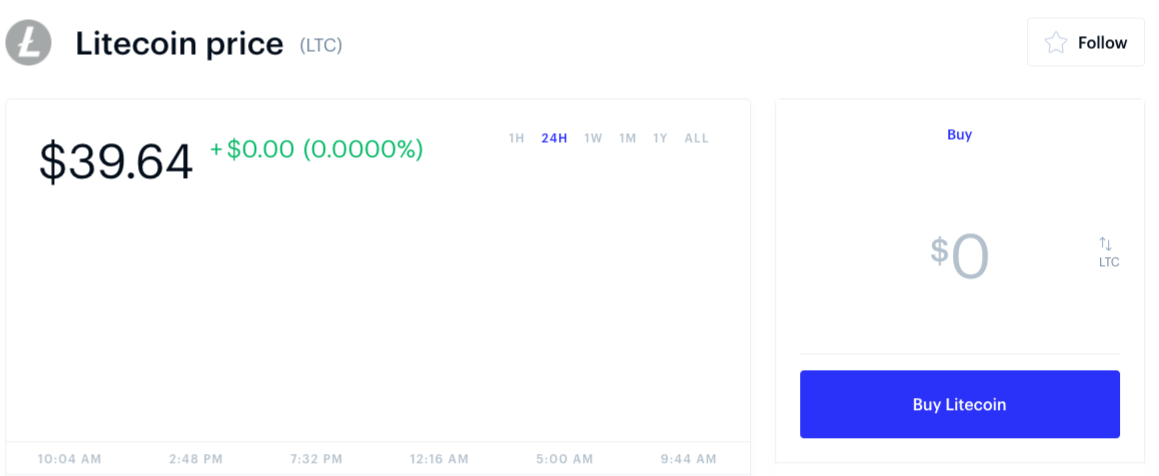 Steps to buy on Coinbase:
Sign up for an account
Verify your email and identity
Set up 2-Factor Authentication to secure your account
Deposit money in your Coinbase account. Using a credit or debit card is faster but attracts more fees than a Bank Transfer
Click on "Buy/Sell" from the top menu
Select LTC from the search. Check the price.
Enter the amount you want to buy and click on "Buy Litecoin"
Buying Litecoin on Gate.io
Gate.io is an exchange with large volumes and has lower transaction fees compared to many exchanges.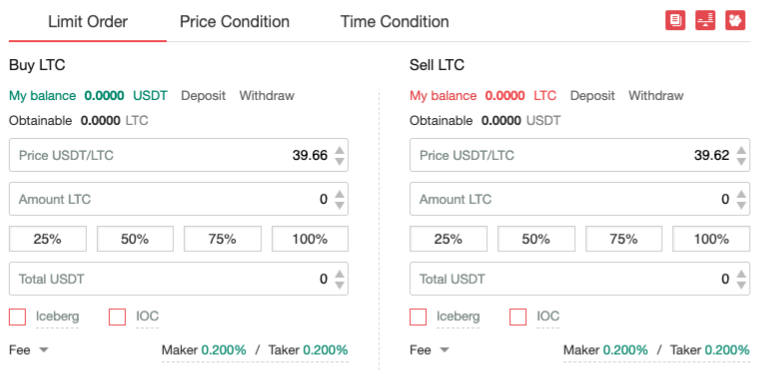 Steps to buy on Gate.io:
Create an account
Verify email
Set up 2-Factor authentication for security
Deposit BTC / ETH / USDt on Gate.io. Gate.io does not support Fiat deposits
Click on the Markets in the top menu
On the left panel, select LTC with BTC/ETH/USDt
Below the graph, enter the amount you wish to buy and there you have it in your wallet
Buying Litecoin on Paxful
Paxful is an easy-to-use peer-to-peer trading platform with a lot of payment options. However, their customer support can definitely be improved.

Steps to buy on Paxful:
Sign up for an account
Complete all verifications
Enable 2-Factor authentication for security
You can deposit via credit / debit cards, cash, MoneyGram, Bank transfers, Paypal or Western Union
Once you deposit the amount, you can buy directly with the amount deposited
This is the most easy-to-use interface with a direct exchange enabling you to buy instantly
How to store Litecoin securely?
Securing your crypto assets is important. Cryptocurrency offers the advantages of having no middlemen like banks, but it also comes with the responsibility to secure your own funds. If they are hacked or stolen, there is no one you can complain to. The transactions on crypto are irreversible.
Hence it is said that it is dangerous to store your crypto on an exchange. So once you buy your Litcoin, use one of the wallets below to store it.
Ledger Nano S/X - Hardware wallet
Ledger is one of the leading hardware wallets in the industry. They have Ledger Nano S and X. You can choose any one of them based on your budget.
Ledger wallet can also store other crypto assets for you.
Hardware wallets are generally most secure and they can be carried or stored anywhere.
Steps to store LTC on Ledger:
Once you purchase Ledger, plug it into your machine with the cable provided
Choose your model of Ledger
Install Ledger Manager Chrome Extension
Upgrade your firmware, if there is an option
In the app, you will see a list of cryptocurrencies. Select Litecoin
The app will ask if you want to allow this installation. Click on the button on the hardware wallet to allow installation
Scroll by pressing the button on top right and choose Litecoin on your Ledger screen
Once the app is installed, continue to http://Litecoin.org/account-viewer/
Now open the Litecoin app on your Ledger Nano by clicking the top two buttons at the same time
Go to Settings > Browser Support > Yes
On your computer screen, there will be a blue button which says "Sign in with Ledger". Click on that
Once done, you will see your public key and your Litecoins balance on the screen
Send your Litecoins from your exchange to this public address. Wait for the Litecoin network to register the transaction. Transactions are usually really fast on Litecoin
You are done!
It is advisable to send a small number of tokens to test the address before you transfer the entire amount.
Trezor wallet
Trezor is Ledger's rival and an equally respected hardware wallet. Trezor is known for
Steps to store LTC on Trezor:
Once you purchase Trezor, plug it into your machine with the cable provided
Continue to create a PIN
Go to http://wallet.trezor.io and select Litecoin from the top right corner
Allow Trezor wallet to read your private keys
Export Litecoin address for your account
Create and enter your passphrase. You need to remember this or you lose your tokens
Now the screen will show your public Litecoin address and 0 Litecoins, which is your balance
Send your Litecoins from your exchange to this public address.
You are done!
Litecoin Core Wallets
Litecoin Core offers desktop and mobile-based Litecoin wallet that can be used if you are not too keen on getting a hardware wallet. It is an easy-to-use software designed specifically for Litecoin.
Steps to store LTC on Litecoin wallet:
Choose the wallet that you want - mobile or desktop
Click on Atomic Wallet and install the wallet on your desktop or mobile
Once done, you will get your public LTC address
Send your tokens to this address and you are good to go
Frequently asked questions about buying Litecoin cryptocurrency
How can you buy Litecoin with credit card?
You can buy Litecoin with a credit card on eToro, Coinbase or Paxful.
How can you buy Litecoin with USD?
Buying Litecoin with USD is fairly simple. You can use a number of exchanges like eTORO, Cex.io or Coinbase.
How to buy Litecoin cryptocurrency with Paypal?
You can use Coinbase or Paxful to buy with Paypal.