What is IOTA Cryptocurrency?
IOTA is a public blockchain is different from Bitcoin or Ethereum because it uses Tangle technology at the core.
The Tangle is a new type of a distributed ledger that is based on a Directed Acyclic Graph (DAG) meaning there are no blocks, no chains, and no miners. We will look at the technology in detail.
First, let us start with the history of the organization behind IOTA:
History of IOTA Foundation
The IOTA Foundation was born in Germany as a non-profit organization in 2017. It was founded by Dominik Schiener and David Sønstebø.
It was initially funded through a December 2015 crowd sale where approximately $500,000 worth of cryptocurrencies were raised.
All of the token supply was issued to the crowd sale participants, with no tokens reserved for founders, developers or advisors. This is rare in the cryptocurrency industry.
IOTA's founding team did not keep any IOTA tokens for themselves initially. The community was generous enough to donate about 5% of the total supply to IOTA Foundation, the non-profit that runs IOTA.
The team released software called TRINITY, which allows users to buy IOTA tokens directly using android, iOS, PC, Mac, and Linux.
How does IOTA work?
IOTA was born in the cryptocurrency bull market of 2017. This was a time when hundreds of blockchain products flooded the market. Since the inception of Bitcoin and later with the development of Ethereum, every project had been trying to solve different use cases.
However, every project had one big limitation. Blockchain did not scale well. Even in 2021, no blockchain project has scaled to the extent that they can compete with Visa. Bitcoin's Layer 1 still processes only 7 transactions per second. For a blockchain to be used by a global audience, this needs to scale exponentially.
This is exactly the kind of problem that the creators of IOTA wanted to solve. Instead of using a blockchain, IOTA using something called DAG (Directed Acyclic Graph) or Tangle. Directed means that the link between these items always have a direction and Acyclic means that you cannot create loops inside the structure. Let's take an example of a Tangle.
Each square represents a single transaction and is also called a site that contains the details of the transaction such as sender, receiver and amount. It also has a connection to other transactions represented by arrows. These are called Edges and they validate the transaction.
When a new transaction is to be added, two of the tips of a site are selected at random through an algorithm. It then verifies the validity of the site. In turn, this process of adding a new transaction verifies another transaction and our transaction becomes the new tip of Tangle.
This technique makes IOTA's Tangle incredibly scalable. Every new transaction verifies two other transactions. The network does not slow down as the volume of transactions go up. In-fact it speeds up.
How does Trinity work?
Trinity is a virtual wallet software developed by IOTA Technologies for the buying and selling of IOTA tokens. It is a simple Graphical User Interface (GUI) that is easy to understand, fast and reliable. It is password protected and encrypted. The home page of the software is very simple but powerful. It shows the history of transactions and purchases. One can send or receive IOTA tokens through the computer-generated encrypted hash address which is a one-time-use address. It also shows the stock value of IOTA tokens with respect to the U.S Dollar.
Where to buy IOTA cryptocurrency?
After the background, we address the main question - where can I buy IOTA? You can buy IOTA tokens from the official Trinity wallet or you have other alternatives.
Exchange Name
Transaction Fees
Payment Method(s)
Pros
Cons
Etoro
No fees for unleveraged trading but a spread of 2.45% for IOTA
Credit card, Debit card, Paypal, Wire Transfer, Local Online Banking

Simple interface
Social trading

Higher spreads
No crypto deposits

Binance
0.1%
Bank transfers, Debit cards, Wire transfers, Cryptocurrencies

Trusted
SAFU Fund
Low fees
No KYC for small accounts

Not all cryptocurrencies available in the US
Lax regulation

Gate.io
0.2%
Cryptocurrencies

Large-volume
Range of currencies

No Fiat deposits
Relatively new exchange

Coinbase
1.49% or a fixed fee
Credit card, Debit card, Paypal, Cryptocurrencies

Easy for beginners
Trusted
Good customer service

Higher fees
Fewer crypto options for trading
Only available in select countries

Paxful
0% for maker / 1% for taker
Credit card, Cash, Paypal, Western Union, Cryptocurrencies

Easy to use
Range of deposit options
Buyers trade without fees

Exchange rates are different for sellers
Seller-driven market
How to buy IOTA - a step-by-step process
Buying IOTA on Etoro
You can buy it through eToro's trading platform. With Etoro, you can trade IOTA using fiat currency like USD, Euro, etc.
Sign up for  an account at eToro. Click the Signup button on the top right
Verify your email address
To deposit money in eToro, you need to pick a payment method first. You can choose Paypal, Skrill, pay via Credit/debit card or Wire Transfer the money into eToro from your bank account
eToro requires depositing a minimum of £200 into the account. This money can be used for buying different tokens if you want to buy less of IOTA
On the top menu, click on "Top Markets" and select Cryptocurrencies
You will see a search box for trading pairs. Type IOTA/Euro or IOTA/GBP depending on what you have in your account. You can select IOTA price GBP and pay
Click on "Trade" and you will see the screen to get it with the current price and a graph on it.
Buying IOTA on Binance
Binance is a leading crypto exchange. If you want to buy cryptocurrencies with your local fiat currency – like US dollars or Japanese Yen – you should purchase Bitcoin or Ether from another exchange. An exchange such as Coinbase can be easy for new traders who want to buy or hold cryptocurrencies.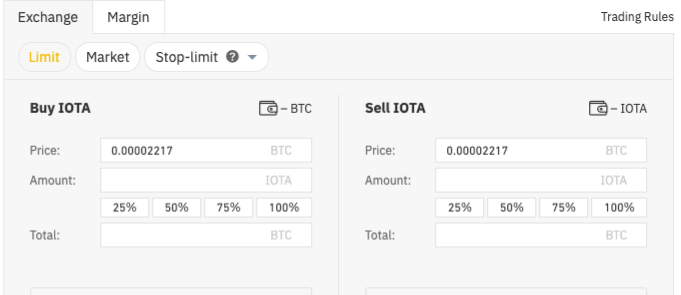 A step-by-step process for Binance:
Go to www.binance.com and register
Verify your Binance account and submit all the documents they ask for
Enable 2-Factor Authentication to protect your account
Send your BTC or ETH to Binance deposit address
Alternatively, you could buy BTC via one of Binance's Fiat Gateways. These gateways work in some countries only. So check if they work in your country first
Wait for the confirmation of deposit
Go to the exchange screen by clicking "Exchange > Basic" on the top left menu
On the right-hand side, select the trading pair IOTA/BTC or IOTA/ETH
You will see a graph in the middle and a buy box below that
Click on the 'Market' option
Enter the BTC / ETH amount that you want to buy for
Click the buy button and you are done! Tokens should be in your Binance account
Buying IOTA on Gate.io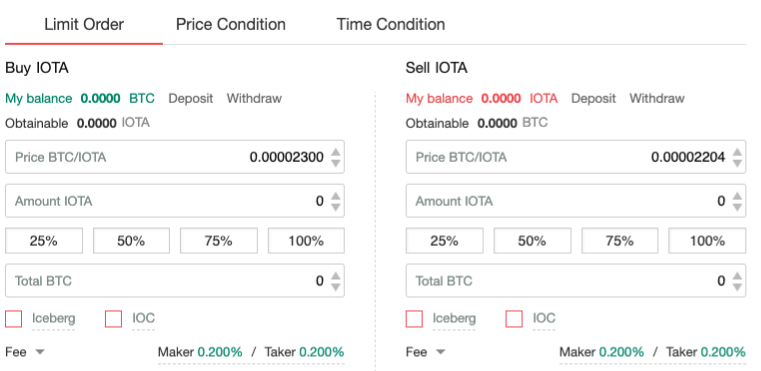 Steps to buy on Gate.io:
Create an account
Verify email address
Set up 2-Factor authentication for security
Deposit BTC / ETH / USD on Gate.io. Gate.io does not support Fiat deposits
Click on the Markets in the top menu
On the left panel, select IOTA(MIOTA) with BTC/ETH/USD
Below the graph, enter the amount you wish to buy and it will reflect in your account
Buying on Coinbase
Coinbase is one of the most popular crypto exchanges in the world. It provides a brokerage service as well as a trading platform. However, they are known for their high fees. If you are looking for an easy way to buy some tokens, this may be the best place to start before you graduate to more advanced exchanges.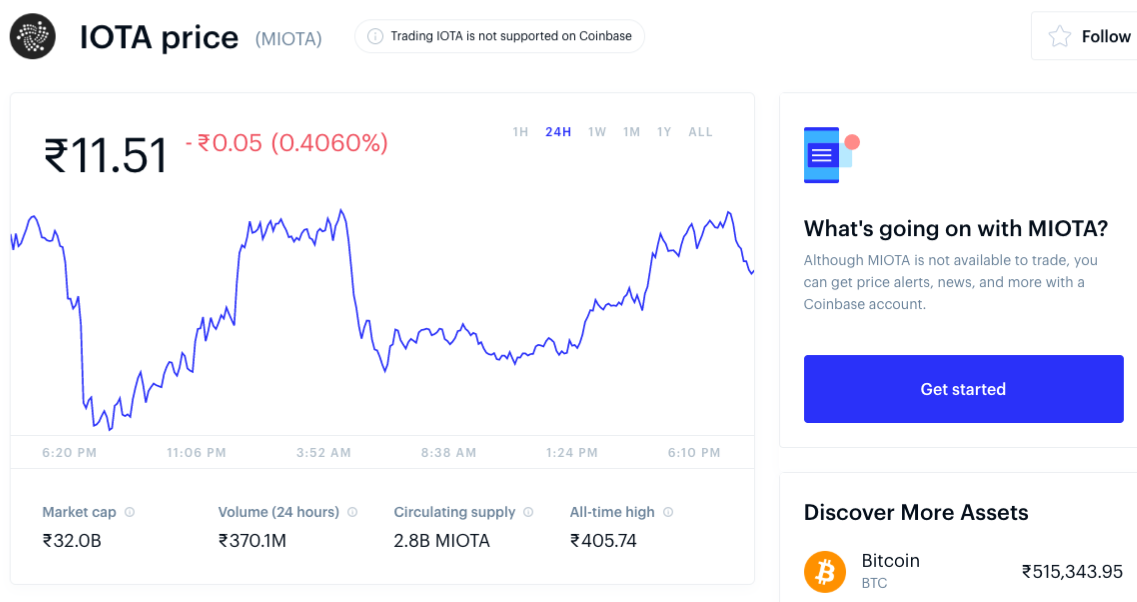 Steps to buy on Coinbase:
Sign up for an account
Verify your email and identity
Set up 2-Factor Authentication to secure your account
Deposit money in your Coinbase account. Using a credit or debit card is faster but attracts more fees than a Bank Transfer
Click on "Buy/Sell" from the top menu
Select IOTA from the search. Check the price.
Enter the amount you want to buy and click on "Buy IOTA"
How to store IOTA securely?
Blockchain has been touted as the most secure database or ledger in the world. It also gives the power back to the common users to control their crypto tokens. This also means that the users have to shoulder the responsibility of storing their tokens safely. Most hacks in the blockchain world are due to a mistake or a slip by the users or a centralized exchange that takes custody the tokens.
IOTA faced a controversy recently as $4 million worth of tokens were stolen by hackers. This led to a heated discussion about IOTA's security. But it was later discovered that the attack did not break the IOTA blockchain. The hackers actually used advanced phishing techniques to lure the token holders into sharing their sensitive information.
IOTA's co-founder David Sønstebø reminded the community that they are responsible to keep their tokens secure and reiterated the fact that decentralization has its advantages but also means the users have the responsibility of being their own banks.
In light of such responsibility, here are a couple of things that users can do to keep their tokens safe:
Use only legit and trusted software like Trinity

Generate a Strong Seed

The Trinity generates a private key for users to access their account.

Change the Seed often

Store the Seed in a private and secure place that only you can access.
You can purchase IOTA and store it in Trinity IOTA wallet:
Download the Trinity software from https://trinity.iota.org/
Register yourself by following the instructions on the screen
Once you have registered click on the Buy button
Enter your country
Enter your email id, a verification mail will be sent to your email and you will be asked to enter the verification code
Select your Trinity account
Enter the amount you want to purchase, you will be given the amount of IOTA tokens you will be getting
Enter your details as asked on the screen
Enter your billing address
Enter your payment information
And you're done! Your IOTA tokens should reflect on the home page of your IOTA wallet
Ledger Nano X - Hardware wallet
Steps to store IOTA on Ledger:
Once you purchase Ledger, plug it into your machine with the cable provided
Choose your model of Ledger
Install Ledger Manager Chrome Extension
Upgrade your firmware, if there is an option
In the app, you will see a list of cryptocurrencies. Select IOTA
The app will ask if you want to allow this installation. Click on the button on the hardware wallet to allow installation
Scroll by pressing the button on top right and choose appropriate cryptocurrency on your Ledger screen
Now open the IOTA app on your Ledger Nano by clicking the top two buttons at the same time
Go to Settings > Browser Support > Yes
On your computer screen, there will be a blue button which says "Sign in with Ledger". Click on that
Once done, you will see your public key and your balance on the screen
Send your Lumens from your exchange to this public address. Wait for the blockchain to register the transaction
You are done!
Always test a small amount before you send a large amount.
Frequently asked questions
How to buy IOTA with a credit card?
You can buy IOTA tokens with a credit card/debit card from Trinity wallet, eToro etc.
How to buy IOTA with USD or any other currency?
You can use a number of exchanges like eToro or Coinbase.
How to buy IOTA in Canada?
You can use exchanges like Bitbuy, Kraken, Coinsquare and NDAX to trade IOTA in Canada.
How to buy IOTA cryptocurrency with Paypal?
You can use Coinbase or Paxful to use Paypal.