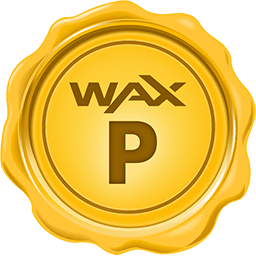 WAX Price
(WAXP)
Rank #97
Market Cap
$1,158,450,940 USD
24h Volume
$82,877,445 USD

(1.1%)

Circulating Supply
1,856,083,466 WAXP
Total Supply
3,815,391,891 WAXP
What Is WAX's Price Today?
WAX (WAXP) is trading at $0.62414 USD, increasing by 1.1% since yesterday. WAX has traded $82,877,445 USD in the last 24 hours.
WAX (WAXP) is the #97 largest cryptocurrency by market cap as of December 03, 2021, with a market cap of $1,158,450,940 USD.
How Much Did WAX Raise?
The WAX ICO (initial coin offering) raised $46,480,000 USD by selling 422545454.54545456 WAX tokens at a price of $2.05 USD. The WAX ICO began on November 15, 2017 and ended on November 29, 2017. Key team members during the WAX ICO included William Quigley, John Brechisci, Jr., and Jonathan Yantis.
What Is WAX Cryptocurrency (WAXP)?
Safe. Secure. Fast.
How Many WAX Coins Are There?
There are currently 1,856,083,466 WAX coins circulating out of a max supply of 3,815,391,891.
Buying/Selling WAX On Cryptocurrency Exchanges
WAX is trading on 36 markets. In the last 24 hours, WAX was most traded on Binance, Mandala Exchange, and Upbit. The most traded WAX pairs in the last 24 hours are WAXP/USDT, WAXP/KRW, and WAXP/BUSD.
WAX Markets
#
Exchange
Market
Volume (24hr)

Price

Volume %

1
Mandala Exchange
WAXP/USDT

5 minutes ago

$25,610,685

25,585,757 USDT

$0.6202
30.96%
2
Binance
WAXP/USDT

2 minutes ago

$25,730,999

25,707,016 USDT

$0.62258
31.1%
3
Upbit
WAXP/KRW

2 minutes ago

$21,973,237

25,960,328,771 KRW

$0.65343
26.56%
4
Huobi Global
WAXP/USDT

2 minutes ago

$8,296,224

8,288,491 USDT

$0.62319
10.03%
5
Binance
WAXP/BUSD

2 minutes ago

$6,067,971

6,064,201 BUSD

$0.62299
7.33%
6
Mandala Exchange
WAXP/BUSD

5 minutes ago

$6,053,164

6,051,256 BUSD

$0.6211
7.32%
7
KuCoin
WAXP/USDT

3 minutes ago

$4,984,324

4,979,473 USDT

$0.62271
6.02%
8
Gate.io
WAXP/USDT

2 minutes ago

$3,908,969

3,905,326 USDT

$0.62293
4.72%
9
Huobi Global
WAXP/USDT

5 minutes ago

$3,814,496

3,810,783 USDT

$0.61868
4.61%
10
Binance
WAXP/BTC

2 minutes ago

$3,063,083

54 BTC

$0.62188
3.7%
11
BKEX
WAXP/USDT

5 minutes ago

$2,472,509

2,470,205 USDT

$0.62058
2.99%
12
Bithumb
WAXP/KRW

2 minutes ago

$1,842,839

2,177,226,690 KRW

$0.64192
2.23%
13
Binance
WAXP/BNB

2 minutes ago

$879,787

1,412 BNB

$0.62407
1.06%
14
ZT
WAXP/USDT

5 minutes ago

$600,534

599,949 USDT

$0.62001
0.73%
15
AOFEX
WAXP/USDT

5 minutes ago

$573,973

573,438 USDT

$0.62053
0.69%
16
Bittrex
WAXP/BTC

2 minutes ago

$561,024

10 BTC

$0.62132
0.68%
17
KuCoin
WAXP/BTC

2 minutes ago

$484,057

8 BTC

$0.62245
0.59%
18
Bittrex
WAXP/USDT

2 minutes ago

$421,350

420,957 USDT

$0.61846
0.51%
19
Huobi Global
WAXP/BTC

2 minutes ago

$409,694

7 BTC

$0.62132
0.5%
20
KuCoin
WAXP/ETH

2 minutes ago

$344,197

75 ETH

$0.62295
0.42%
21
Pionex
WAXP/USDT

5 minutes ago

$212,245

212,038 USDT

$0.61998
0.26%
22
Bittrex
WAXP/USD

2 minutes ago

$186,016

186,016 USD

$0.62006
0.22%
23
Huobi Global
WAXP/ETH

2 minutes ago

$175,623

38 ETH

$0.62157
0.21%
24
Crypto.com Exchange
WAXP/USDT

5 minutes ago

$159,727

159,571 USDT

$0.62086
0.19%
25
LBank
WAXP/USDT

5 minutes ago

$151,765

151,617 USDT

$0.62201
0.18%
26
Bittrex
WAXP/ETH

2 minutes ago

$133,763

29 ETH

$0.62024
0.16%
27
WazirX
WAXP/USDT

5 minutes ago

$99,056

98,959 USDT

$0.6144
0.12%
28
CoinEx
WAXP/USDT

3 minutes ago

$98,250

98,154 USDT

$0.62329
0.12%
29
HitBTC
WAXP/USDT

5 minutes ago

$65,370

65,309 USDT

$0.61817
0.08%
30
Bitfinex
WAXP/USD

2 minutes ago

$24,436

24,436 USD

$0.61527
0.03%
31
Gate.io
WAXP/ETH

2 minutes ago

$23,968

5 ETH

$0.62401
0.03%
32
Upbit
WAXP/BTC

2 minutes ago

$22,567

0 BTC

$0.62758
0.03%
33
Tokocrypto
WAXP/USDT

5 minutes ago

$13,256

13,243 USDT

$0.62058
0.02%
34
HitBTC
WAXP/BTC

5 minutes ago

$12,995

0 BTC

$0.61286
0.02%
35
HitBTC
WAXP/ETH

5 minutes ago

$0

0 ETH

$0.6439
0%
36
Bitrue
WAXP/BTC

5 minutes ago

$0

0 BTC

$0.27905
0%
WAX Token Metrics
Percentage of WAXP on Exchanges
0.0%
Tokens held on exchanges
Percentage of Early Investors Still HODLing
261.2%
Early investors still HODLing
Unique Wallets HODLing Token
Percentage of Tokens Held By Top 100 Wallets
86.3%
Tokens held by top 100
Percentage of Supply Transacted on Blockchain
0.00%
Of supply transacted yesterday
% of supply in circulation
48.6%
Blockchain
Ethereum