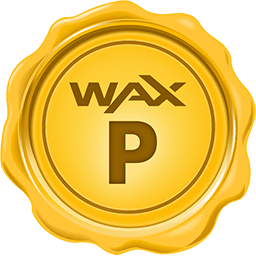 WAX Price
(WAXP)
Rank #153
Market Cap
$180,005,180 USD
24h Volume
$879,132 USD

(0.95%)

Circulating Supply
3,309,119,871 WAXP
Total Supply
3,988,823,965 WAXP
What Is WAX's Price Today?
WAX (WAXP) is trading at $0.0544 USD, increasing by 0.95% since yesterday. WAX has traded $879,132 USD in the last 24 hours.
WAX (WAXP) is the #153 largest cryptocurrency by market cap as of May 28, 2023, with a market cap of $180,005,180 USD.
How Much Did WAX Raise?
The WAX ICO (initial coin offering) raised $46,480,000 USD by selling 422545454.54545456 WAX tokens at a price of $2.05 USD. The WAX ICO began on November 15, 2017 and ended on November 29, 2017. Key team members during the WAX ICO included William Quigley, John Brechisci, Jr., and Jonathan Yantis.
What Is WAX Cryptocurrency (WAXP)?
Safe. Secure. Fast.
How Many WAX Coins Are There?
There are currently 3,309,119,871 WAX coins circulating out of a max supply of 3,988,823,965.
Buying/Selling WAX On Cryptocurrency Exchanges
WAX is trading on 48 markets. In the last 24 hours, WAX was most traded on XT.COM, Upbit, and Binance. The most traded WAX pairs in the last 24 hours are WAXP/USDT, WAXP/KRW, and WAXP/BUSD.
WAX Markets
#
Exchange
Market
Volume (24hr)

Price

Volume %

1
XT.COM
WAXP/USDT

8 minutes ago

$920,471

920,034 USDT

$0.05404
104.61%
2
Upbit
WAXP/KRW

9 minutes ago

$258,920

342,661,967 KRW

$0.05486
29.43%
3
Binance
WAXP/USDT

9 minutes ago

$159,405

159,329 USDT

$0.05434
18.12%
4
Deepcoin
WAXP/USDT

9 minutes ago

$109,383

109,331 USDT

$0.05434
12.43%
5
LBank
WAXP/USDT

9 minutes ago

$73,096

73,061 USDT

$0.05444
8.31%
6
HitBTC
WAXP/USDT

9 minutes ago

$48,080

48,057 USDT

$0.05429
5.46%
7
WhiteBIT
WAXP/USDT

9 minutes ago

$37,992

37,974 USDT

$0.05437
4.32%
8
KuCoin
WAXP/USDT

9 minutes ago

$31,961

31,946 USDT

$0.05446
3.63%
9
Binance
WAXP/BUSD

9 minutes ago

$30,265

30,255 BUSD

$0.05442
3.44%
10
BingX
WAXP/USDT

9 minutes ago

$25,686

25,674 USDT

$0.05418
2.92%
11
CoinEx
WAXP/USDT

8 minutes ago

$17,883

17,874 USDT

$0.05409
2.03%
12
XT.COM
WAXP/USDT

9 minutes ago

$16,409

16,402 USDT

$0.05449
1.86%
13
Bithumb
WAXP/KRW

9 minutes ago

$13,978

18,498,906 KRW

$0.05459
1.59%
14
Binance
WAXP/BTC

9 minutes ago

$9,910

0 BTC

$0.05451
1.13%
15
Gate.io
WAXP/USDT

9 minutes ago

$9,052

9,048 USDT

$0.05447
1.03%
16
Crypto.com Exchange
WAXP/USDT

9 minutes ago

$8,916

8,911 USDT

$0.05439
1.01%
17
Crypto.com Exchange
WAXP/USD

9 minutes ago

$6,575

6,575 USD

$0.05433
0.75%
18
CoinEx
WAXP/USDT

9 minutes ago

$6,375

6,372 USDT

$0.05441
0.72%
19
ZT
WAXP/USDT

9 minutes ago

$6,322

6,319 USDT

$0.05438
0.72%
20
KuCoin
WAXP/BTC

9 minutes ago

$6,140

0 BTC

$0.05443
0.7%
21
Bybit
WAXP/USDT

9 minutes ago

$5,213

5,211 USDT

$0.05447
0.59%
22
Huobi
WAXP/USDT

9 minutes ago

$4,682

4,680 USDT

$0.0544
0.53%
23
Gate.io
WAXP/ETH

9 minutes ago

$3,416

2 ETH

$0.05442
0.39%
24
Binance.US
WAXP/USD

9 minutes ago

$2,148

2,148 USD

$0.0542
0.24%
25
BKEX
WAXP/USDT

9 minutes ago

$2,100

2,099 USDT

$0.05414
0.24%
26
MEXC
WAXP/USDT

9 minutes ago

$2,024

2,023 USDT

$0.05428
0.23%
27
OKX
WAXP/USDT

9 minutes ago

$1,977

1,976 USDT

$0.05414
0.22%
28
Binance
WAXP/BNB

9 minutes ago

$1,436

5 BNB

$0.05442
0.16%
29
Binance.US
WAXP/USDT

9 minutes ago

$1,311

1,311 USDT

$0.05394
0.15%
30
KuCoin
WAXP/ETH

9 minutes ago

$1,157

1 ETH

$0.05431
0.13%
31
Bittrex
WAXP/BTC

9 minutes ago

$914

0 BTC

$0.05451
0.1%
32
BitUBU
WAXP/USDT

9 minutes ago

$633

632 USDT

$0.05414
0.07%
33
KuCoin
WAXP/USDT

8 minutes ago

$623

623 USDT

$0.05436
0.07%
34
CoinDCX
WAXP/INR

9 minutes ago

$306

25,249 INR

$0.06007
0.03%
35
CoinDCX
WAXP/USDT

9 minutes ago

$95

95 USDT

$0.05444
0.01%
36
Upbit
WAXP/BTC

9 minutes ago

$76

0 BTC

$0.05559
0.01%
37
Bittrex
WAXP/USDT

9 minutes ago

$67

67 USDT

$0.05423
0.01%
38
Bittrex
WAXP/ETH

9 minutes ago

$66

0 ETH

$0.05497
0.01%
39
Nominex
WAXP/USDT

9 minutes ago

$51

51 USDT

$0.05434
0.01%
40
WazirX
WAXP/USDT

9 minutes ago

$45

45 USDT

$0.05564
0.01%
41
Bitfinex
WAXP/USD

9 minutes ago

$16

16 USD

$0.05431
0%
42
Bittrex
WAXP/USD

9 minutes ago

$0

0 USD

$0.05388
0%
43
HitBTC
WAXP/ETH

9 minutes ago

$0

0 ETH

$0.05515
0%
44
HitBTC
WAXP/BTC

9 minutes ago

$0

0 BTC

$0.05743
0%
45
Korbit
WAXP/KRW

9 minutes ago

$0

0 KRW

$0.05385
0%
46
Tokocrypto
WAXP/USDT

9 minutes ago

$0

0 USDT

$0.05434
0%
47
Tokocrypto
WAXP/BUSD

9 minutes ago

$0

0 BUSD

$0.05442
0%
48
Tokocrypto
WAXP/BNB

9 minutes ago

$0

0 BNB

$0.05442
0%
% of supply in circulation
83%
Blockchain
Ethereum